Pauahi Sunday
at Kaumakapili Church
A time of Remberance for Our Aliʻi
Usually celebrated the Sunday before the Princess's birthday, December 19th,
the Sunday before Christmas.
Please contact the Church Office for more details.

For more information about our beloved Princess Bernice Pauahi Bishop,
visit this website by Reverend Abraham K. Akaka: http://akakafoundation.org/sermonBernice.html.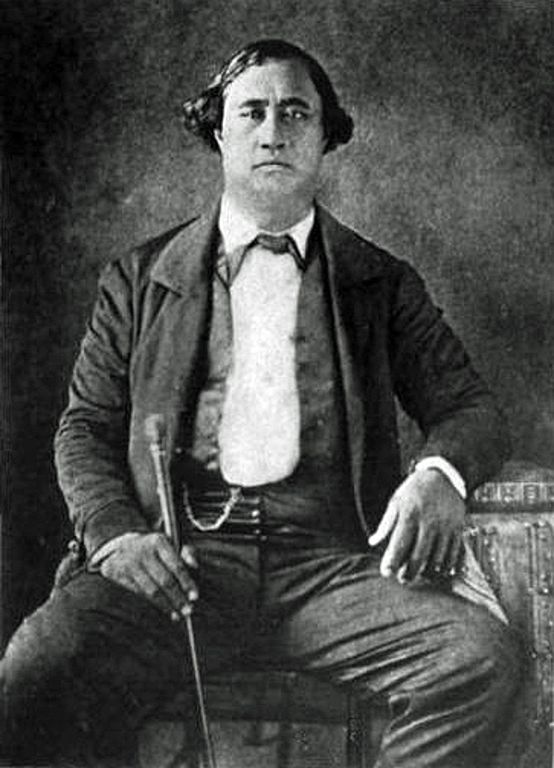 High Chief High Chiefess
Abner Kuhoʻoheiheipahu Pākī Laura Kanahola Kōnia
He served as Hawaiʻi Supreme Court Judge & personal advisor to Kamehameha III. She served as a Council member to the 1st Legislative Council in Hawaii. They are the biological parents of Bernice Pauahi and hanai parents of Lydia Liliʻu Kamakaʻeha. Their gift of land in the village of Kaumakapili gave way to the establishment of Kaumakapili Church in 1838.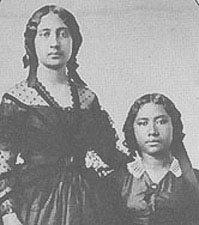 Hanai Sisters Bernice Pauahi & Lydia Liliʻu Kamakaʻeha 1854
Both girls would grow up to be influential to the survival of the Hawaiian people including Kaumakapili.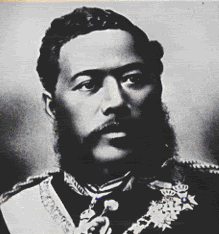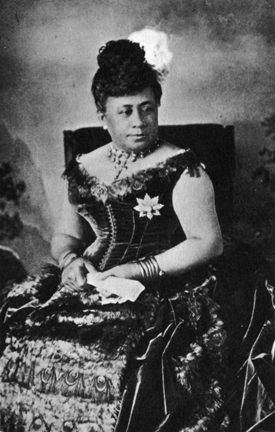 King David Kalākaua Queen Kapiʻolani
Our Aliʻi were involved in the life our people in many ways including supporting their endeavors at Kaumakapili. King David Kalākaua influenced the architecture of the 2nd church with its twin steeples. Queen Kapiʻolani offered her personal collection of Hawaiian royalty be put on display at Kaumakapili's Fair, a fundraising event hosted in June 1885.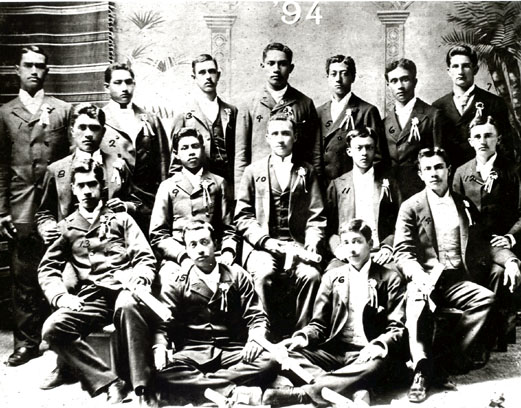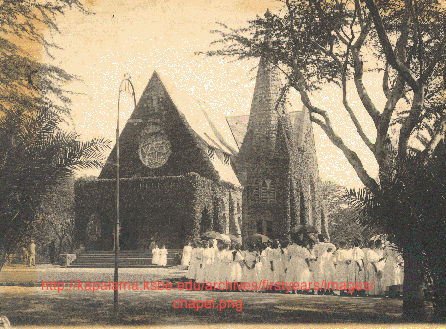 Prior to the completion of the Bishop Memorial Chapel, students from the Kamehameha Schools for Boys would march to nearby Kaumakapili Church to attend worship service and Sunday School. There students would be most comfortable hearing Hawaiian language spoken and sung in worship service.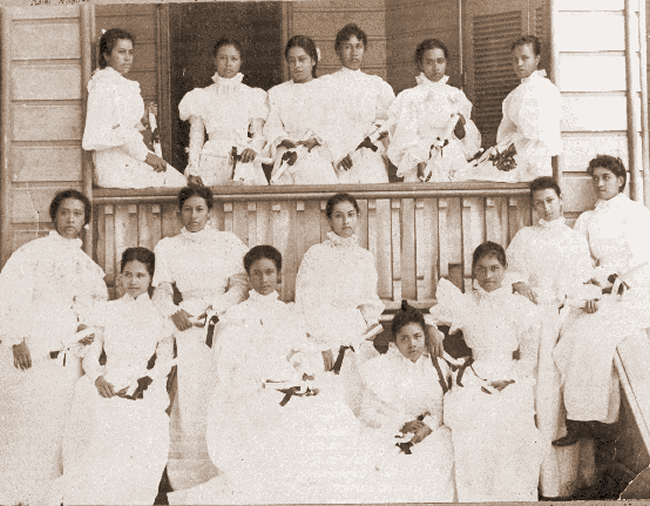 In 1897, the first graduating class of the Kamehameha School for Girls held their graduation ceremonies at Kaumakapili Church where students gave speeches, sang songs, and received their diplomas. Then Kahu of Kaumakapili, Rev. E.S. Timoteo also participated in the services.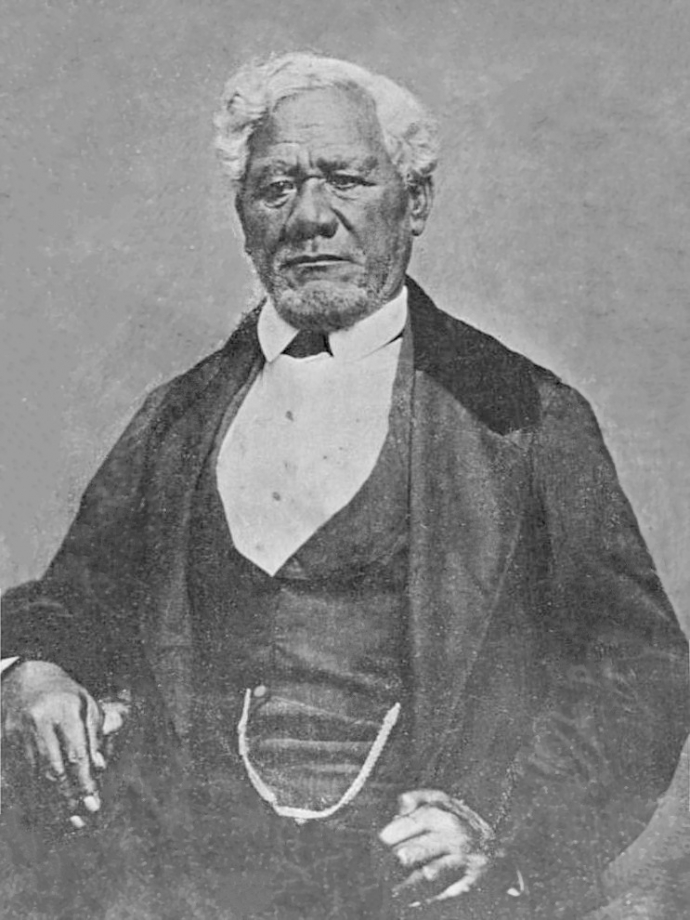 The chinatown fire of 1900 inadvertently burned Kaumakapili Church. Church trustees and Bishop Estate Trustees agreed to transfer land from the 1st and 2nd church at Kaumakapili to the site of our current church in Keoneʻula. This land also known as Kuhimana, was inherited by Pauahi from Governor Mataio Kekūanāoʻa, her hānai father.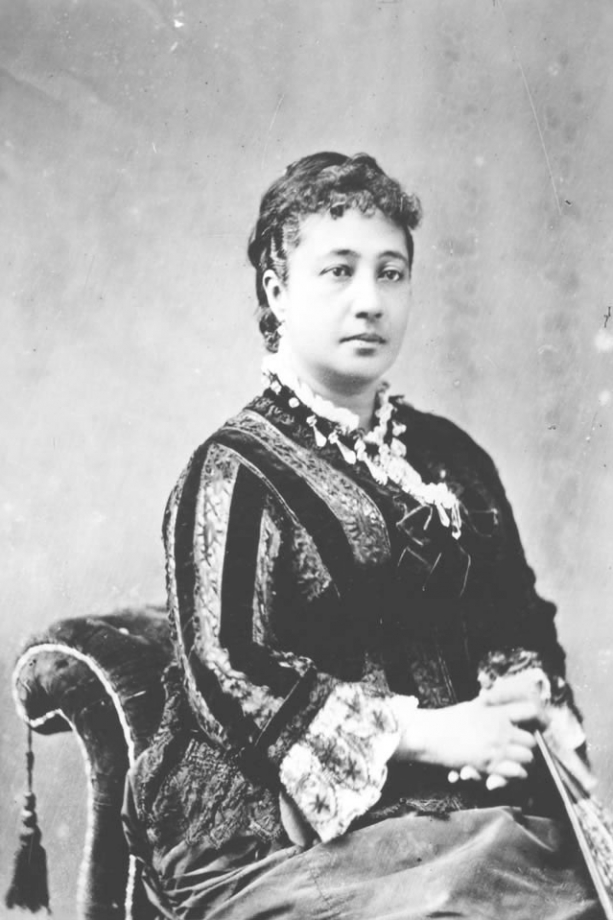 Today we say Mahalo Ke Akua for our beloved Aliʻi, Pākī and Kōnia and their generous gift of aloha that helped start Kaumakapili. We also say Mahalo Ke Akua for Ke Aliʻi Pauahi and her vision to continue the life of our people. Mahalo Ke Akua for our continued relationship with Kamehameha Schools Bishop Estate. We are grateful for the years of aloha we share together and look forward to the years to come.