Contact us
Kaumakapili Church
766 N. King Street
Honolulu, HI 96817
t. (808) 845-0908
f. (808) 843-0711
GENERAL OFFICE HOURS (Hours may vary because of COVID. Please call first.)
Monday - Thursday: 8:00 a.m. - 12:00 p.m.
Friday & Saturday: Closed
Sunday 8:00 a.m. - Noon
Please call ahead to make an appointment or email the church office.

OUTREACH/COMMUNITY CENTER: CLOSED
We regret that we are not accepting donations to the Free Store (items and food). Please do not leave your donations at our church at this time.

PARKING
Streetside Parking

Kamalulaniokeone'ula Lot (Entrance Kanoa Street/Backside of the Church)

Administrative Lot (North King Street)

Tamashiro Side Lot (Palama Street/North King Street): Parking is usually not availabe during Tamashiro Marketʻs business hours.

(Stalls may be reserved for special events. Please call ahead to confirm.)




Important Announcement:
Kaumakapili Church is seeking a
Part Time Office Manager
--
use the following link for
Skill Sets Required
.
Enjoy our new "

Welcome to Kaumakapili" video

to learn more about our church
via this YouTube link:
youtu.be/Q3OOJYlYTRY
Our
latest newsletter is online here.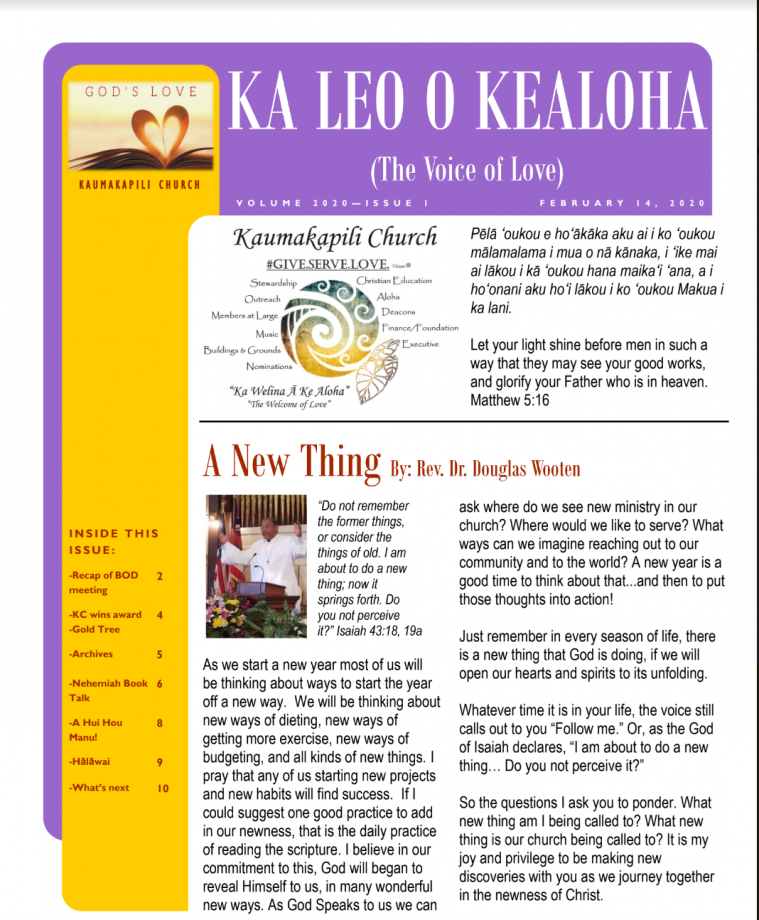 Passages to know by heart:


Adapted from The Bible and the United Church of Christ, Quinn G. Caldwell's
Fifteen Passages To Know By Heart
1. Deuteronomy 6:4-5: Hear, O Israel: The Lord is our God, the Lord alone. You shall love the Lord your God with all your heart, and with all your soul, and with all your might.
Kānāwai Lua 6:4-5: E hoʻolohe mai, e ka ʻIseraʻela; ʻO Iēhova ko kākou Akua, hoʻokahi nō Iēhova. E aloha aku ʻoe iā Iēhova i kou Akua me kou naʻau a pau, me kou ʻuhane a pau, a me kou ikaika a pau.
2. Psalm 23:6: Surely goodness and mercy shall follow me all the days of my life: and I will dwell in the house of the Lord for ever.
Halelū 23:6: ʻOiaʻiʻo, e hahai mau ana iaʻu ka pono a me ke aloha i nā lā a pau o koʻu ola ʻana; A ma loko o ka hale o Iēhova ʻo wau e noho mau loa aku ai.
3. Luke 12:34: For where your treasure is, there your heart will be also.
Luke 12:34: No ka mea, ma kahi e waiho ai ko ʻoukou waiwai, ma laila pū nō hoʻi ko ʻoukou naʻau.
Stay updated!
Find us on social media:
COVID-19


Read more about the current status of our in-person and Zoom services via this link:

COVID Update
Ka Huliau Powerpoint Video Presentation
:
Strategic Plan 2021-2025
can be found on our YouTube channel via this link:
Our YouTube Channel
Hawaiian Language Halawai (Expressing our Christian Faith through ʻOlelo Hawaiʻi) Services have been paused
at this time.
Upcoming Events:
Mar 24
All Day Event
UCC News: Join the Movement creates Lenten journey for courageous conversations. Visit this ...
Read More
Mar 25
All Day Event
UCC News: Join the Movement creates Lenten journey for courageous conversations. Visit this ...
Read More
Mar 26
All Day Event
UCC News: Join the Movement creates Lenten journey for courageous conversations. Visit this ...
Read More
9:00 am
Our youth gathers to study the Bible in the auxilary hall of the church for Youth Bible Study ...
Read More
10:15 am
Enjoy our Singspiration and Sunday School time to prepare your hearts for worship. Participate ...
Read More
10:30 am
Aloha! Please join us for Sunday in-person worship or via Zoom. Participate in worship and hear ...
Read More
Mar 27
All Day Event
UCC News: Join the Movement creates Lenten journey for courageous conversations. Visit this ...
Read More
Mar 28
All Day Event
UCC News: Join the Movement creates Lenten journey for courageous conversations. Visit this ...
Read More
10:30 am
Women of the Bible Coffee Hour: A women's bible fellowship guided by the Holy Spirit ...
Read More
Mar 29
All Day Event
UCC News: Join the Movement creates Lenten journey for courageous conversations. Visit this ...
Read More
9:00 am – 11:00 am
Ka Hinaʻi Hoʻomaʻona (The Basket that Feeds Fully) is a free program enrolling 150 families and ...
Read More
6:00 pm
Mid-Week Lenten Services "Symbols and Events Leading to the Cross" via Zoom at 6:00 ...
Read More
Mar 30
All Day Event
UCC News: Join the Movement creates Lenten journey for courageous conversations. Visit this ...
Read More
5:30 pm
Our deacons will be leading a Thursday Bible Study via Zoom: https://zoom.us/j/4827677550. The ...
Read More
Mar 31
All Day Event
UCC News: Join the Movement creates Lenten journey for courageous conversations. Visit this ...
Read More
Apr 1
All Day Event
UCC News: Join the Movement creates Lenten journey for courageous conversations. Visit this ...
Read More
Apr 2
All Day Event
UCC News: Join the Movement creates Lenten journey for courageous conversations. Visit this ...
Read More
All Day Event
God of humble entries, we lay down our branches on the path ahead and give thanks for this day ...
Read More
9:00 am
Our youth gathers to study the Bible in the auxilary hall of the church for Youth Bible Study ...
Read More
10:15 am
Enjoy our Singspiration and Sunday School time to prepare your hearts for worship. Participate ...
Read More
10:30 am
Aloha! Please join us for Sunday in-person worship or via Zoom. Participate in worship and hear ...
Read More
Apr 3
All Day Event
UCC News: Join the Movement creates Lenten journey for courageous conversations. Visit this ...
Read More
Apr 4
All Day Event
UCC News: Join the Movement creates Lenten journey for courageous conversations. Visit this ...
Read More
Apr 5
All Day Event
UCC News: Join the Movement creates Lenten journey for courageous conversations. Visit this ...
Read More
9:00 am – 11:00 am
Ka Hinaʻi Hoʻomaʻona (The Basket that Feeds Fully) is a free program enrolling 150 families and ...
Read More
6:00 pm
Mid-Week Lenten Services "Symbols and Events Leading to the Cross" via Zoom at 6:00 ...
Read More
Apr 6
All Day Event
On Maundy Thursday we commemorate the day on which Jesus Christ shared a meal, prayed, and was ...
Read More
Apr 7
All Day Event
Good Friday commemorates the death of Jesus on Calvary, the site just outside the walls of ...
Read More
Apr 8
Apr 9
9:00 am
Our youth gathers to study the Bible in the auxilary hall of the church for Youth Bible Study ...
Read More
10:15 am
Enjoy our Singspiration and Sunday School time to prepare your hearts for worship. Participate ...
Read More
10:30 am
Aloha! Please join us for Sunday in-person worship or via Zoom. Participate in worship and hear ...
Read More
Apr 12
9:00 am – 11:00 am
Ka Hinaʻi Hoʻomaʻona (The Basket that Feeds Fully) is a free program enrolling 150 families and ...
Read More
Apr 16
9:00 am
Our youth gathers to study the Bible in the auxilary hall of the church for Youth Bible Study ...
Read More
10:15 am
Enjoy our Singspiration and Sunday School time to prepare your hearts for worship. Participate ...
Read More
10:30 am
Aloha! Please join us for Sunday in-person worship or via Zoom. Participate in worship and hear ...
Read More
Apr 19
9:00 am – 11:00 am
Ka Hinaʻi Hoʻomaʻona (The Basket that Feeds Fully) is a free program enrolling 150 families and ...
Read More
Apr 23
9:00 am
Our youth gathers to study the Bible in the auxilary hall of the church for Youth Bible Study ...
Read More
10:15 am
Enjoy our Singspiration and Sunday School time to prepare your hearts for worship. Participate ...
Read More
10:30 am
Aloha! Please join us for Sunday in-person worship or via Zoom. Participate in worship and hear ...
Read More